Game info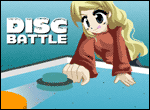 Description:
A small girl table hockey flash game. The objective is to slide the puck into your opponents goal while defending your own goal. Matches are light-weight and only 3 minutes.
Instructions:
No Instructions for this game
Tags:
Discbattle
,
Tablehockeygame
Stats:
10,305 views
No comments yet for this game.