Game info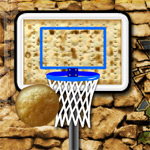 Description:
Ultimate Matzoh Balls: Whether you spell it Matza, Matze, Matzah, or Matzoh you will enjoy this hilarious game! Shoot the matzoh balls into the moving net (don't worry, it's Kosher). The hoop moves faster each round, how long can you keep up?
Instructions:
No Instructions for this game
Tags:
Dunking Contest
,
online
,
Ultimate Basketball
,
US Sports Games
Stats:
7,035 views
No comments yet for this game.