Game info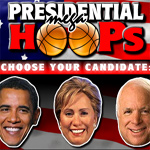 Description:
Pick your Presidential Candidate and shoot him/her into the basketball net. Keep in mind, the candidate you choose will be counted as your vote. Have fun try to complete all 5 levels.
Instructions:
No Instructions for this game
Tags:
Ball Games
,
Basketball
,
Presidential Mega Hoops
Stats:
8,520 views
No comments yet for this game.