Game info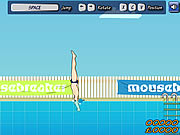 Description:
Bellyflop your way through five levels and make a bigger splash by stuffing all the burgers and junk food you can. The Olympics were never like this.
Instructions:
No Instructions for this game
Tags:
olympic sports
,
swimming
,
water games
Stats:
10,709 views
No comments yet for this game.