Game info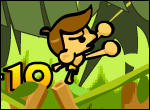 Description:
A colorfull jungle game where you have to jump from tree to tree without falling down in the cold water. Try to help this little monkey to the other side of the jungle, by jumping ropes and grabbing bananas for bonus points. Free games like this are very addictive to play.
Instructions:
No Instructions for this game
Tags:
Jumpgame
,
Jumpjump
Stats:
4,977 views
No comments yet for this game.