Game info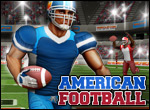 Description:
It´s the Super Bowl Final and you are inside. Select a team. You are the quarterback, throw the ball to your teammate and then run to the touchdown.
Instructions:
No Instructions for this game
Tags:
Footballgame
,
Quarterback
,
super bowl
,
Touchdown
Stats:
27,658 views
No comments yet for this game.